Sale 91PJ062X Oregon 18" full Skip 3/8LP saw chain 952051388 for Echo CS-400
1 91PJ062X Oregon 18" full Skip 3/8 low profile saw chain 952051388 for Poulan wild thing wood shark with 18" bar. 91PJ062XMA this is a full skip chain (2 blank spots between cutter teeth) . This chain is 3/8 low profile .050 gauge and 62 drive links.This PJ chain exchanges with 952051388 ,713-04087, 91VG062G, 91PX062G, 91PXL062G, 91PX062X and S62, and Echo 91VG62CQ . It fits 18 inch smaller Echo such as CS-400 using 91PX62CQ.  also fits craftsman, dolmar, jonsered, husqvarna, solo, Tanaka equipped with 18" bars using 3/8 low profile chain and 62 drive link bars. It has ramp shaped depth gauges and bumper drive links and still maintains the performance advantages of professional 91 series saw chain. Ideal for homeowners, arborists and orchardists. Chamfer chisel cutters with twin cutting corners offer outstanding performance, durability and easy maintenance. Normal retail is $24.05 each - We buy in volume and pass on the savings to you. 
What Chain Do I need? 

Saw chain and guide bars have identification marks on them, and unless they are extremely worn out, they explain what pitch and gauge of chain is on your saw. Look for any numbers and letters on the drive links. That will often tell you what pitch and gauge you're running.  
 Look for any combination of numbers stamped on the guide bar. The chain must match the guide bar numbers and sprocket to work correctly.
 Finally- count the number of drive links on your old chain loop to get the correct replacement chain. 91PJ062G = 62 is number of drive links in any Oregon part number before G matched with 91=(3/8LP .050) (start of Oregon part number(91)= 91 stamped on drive link.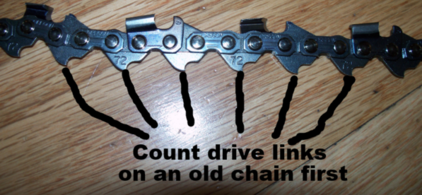 Free shipping in USA on all items. Feel free to call with any questions or help with a purchase 563-544-4498